On July 6, 2012, on the evening television broadcast, Ksenia Sobchak said goodbye to the participants in the television project "Dom-2" and left the site forever. The departure of the TV presenter caused a storm of emotions on the part of the participants. Ksenia Anatolyevna herself did not hold back her tears.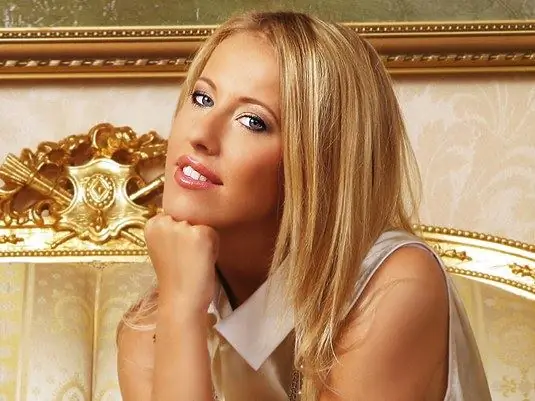 Ksenia Anatolyevna Sobchak has been the constant host of the reality show "Dom-2" since 2004. During this time, many participants changed in the house, and various events took place, but invariably with enviable constancy, the program began with the words of greeting from Ksenia Anatolyevna.
Ksenia Sobchak explained her departure quite simply. She long ago came to the conclusion that she told her audience everything, so she must move on. If you do not constantly strive for new heights and do not develop, the day comes when you begin to slowly but surely slide back.
Eight years spent by Ksenia Sobchak as a presenter did not pass without leaving a trace. Ksenia Anatolyevna emphasized that she had learned a lot from the project participants and was leaving it as a completely different person. The TV presenter said goodbye to each participant and wished them success in their future life.
In her microblog on Twitter, Ksenia Anatolyevna said that she had not renewed the contract with the television project Dom-2. She also stressed that she had made this decision a long time ago and thanked everyone who worked with her for a long time. Words of gratitude were expressed to the entire technical staff of the reality show "Dom-2", co-host - Ksenia Borodina, who came to the project together with Ksenia Anatolyevna Sobchak and Olga Buzova, who joined them from among the participants much later, as well as TNT TV channel.
The head of the PR department of the TNT TV channel Valentina Kiseleva told RIA Novosti that they are not yet looking for a replacement for TV presenter Ksenia Anatolyevna Sobchak. Although, according to rumors, there are many applicants for Sobchak's place, including Vlad Kadoni, a participant in the Dom-2 television project, and Vera Brezhneva, a famous singer and TV presenter.
Alexander Navalny, a well-known opposition leader, commented on Ksenia Anatolyevna's departure with his characteristic causticity and told reporters that Sobchak had left the reality show, having fulfilled the requirement of the Organizing Committee of Protest Actions, which would have prohibited her from walking with a poster.