A home weather station is a device that allows you to personally measure the temperature, pressure and humidity of the air not only indoors, but also outdoors at home. In addition, home weather stations forecast the weather based on changes in atmospheric pressure for the next few hours. It is very convenient to have such a device, because before going outside you will know for sure whether to take an umbrella with you and what to wear.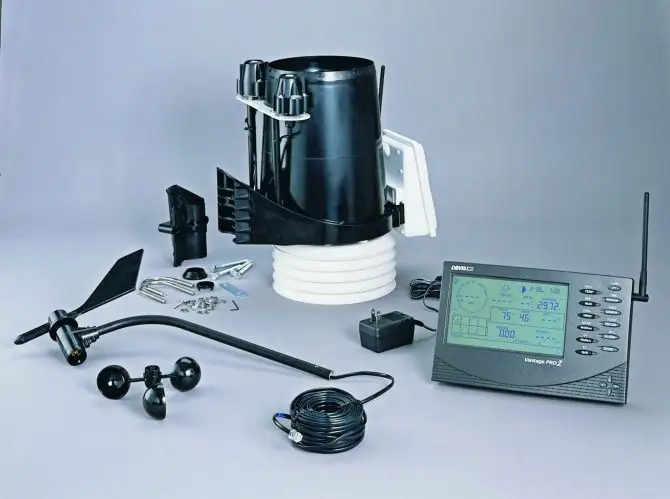 Instructions
Step 1
To choose a home weather station, define the main functions that it should perform. Most weather stations are easy to use and differ little from each other in their tasks and cost. They consist of a remote sensor and a main unit, i.e. display showing humidity, temperature, atmospheric pressure, as well as time, date, day of the week, alarm clock, etc. The remote sensor is mounted outside the building and transmits information to the main unit via a wireless channel. As a rule, the kit includes one sensor, but it is allowed to purchase and install up to five additional sensors at the same time to the weather station to get more accurate data. The main unit can be mounted on a wall or, if equipped with a stand, on any horizontal surface.
Step 2
In addition to the basic functions of a weather station, consider additional ones. For example, in the model range of weather stations in the price range of up to 3,500 rubles, there is a home weather station, which is equipped with a solar battery to charge the battery. In addition, it is much more interesting to watch an animated weather forecast for 12/24 hours in the form of pictures - cloudy, sunny, rain, thunderstorm, storm, etc. Select the operating temperature range outside the room from -40 ° C to + 60 ° C. Both indicators are satisfactory in the conditions of the harsh Russian winter and hot summer.
Step 3
You can also combine business with pleasure by purchasing a digital photo frame with weather forecast, which is endowed with the basic functions of a weather station.
Step 4
More "advanced" home weather stations may have the following additional functions: weather forecast within a radius of 30 km for the next 12-24 hours; measurement of wind speed and direction; measurement of the level of precipitation in the form of a bar chart; built-in memory for data recording for 1 month; range of sensors - 100 m; Software for processing and storing data on a PC (USB); remote wind sensor; thermo-hygro sensor; remote sensor of the level of precipitation.
Step 5
In addition, the home weather station warns of the onset of frost or heat, and also signals a decrease or increase in atmospheric pressure, which is simply necessary for people who have problems with blood pressure.