If your bike has peeling paint, scratches, or you just don't like the color, you can re-paint it yourself. This is not difficult to do, you just need to consistently perform a series of actions.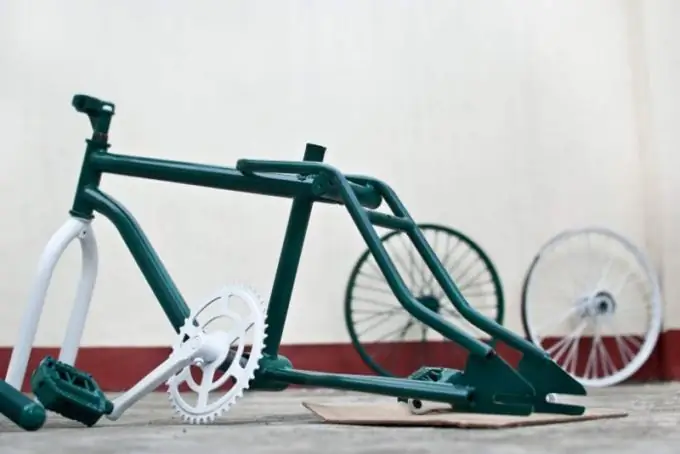 Remove unpainted parts
Remove any parts from the bike that are not planned to be painted (usually only the frame and part of the fork should be painted). Be careful when disassembling the bike, modern models are quite complex and have many elements. If you've never done this before, take photos at every stage of your work. In the future, this will allow you to install all the parts in their place, in the correct sequence. To disassemble the bike, you will need a special set of tools, use only it so as not to damage the fasteners.
Prepare internal lubricant. You will need it later when painting is finished.
Remove old paint
Before painting the bike, remove all existing paint from it, the surface should be smooth as a result. To do this, you can use medium-grit sandpaper. If the bike frame is made of carbon, you may need to leave some paint on it. When removing paint, pay attention to dents, deep scratches and other damage. At this stage, you can close them up using special materials. Remember to level the surface after this work.
Prepare the frame for painting
So that the painting process does not interfere with it, and it goes quickly, hang the frame at a convenient height with a rope. Do it right, do not tie a rope on the surface of the frame, pass it through its holes. The room in which the painting will be carried out must be well lit and ventilated.
Apply a primer
Apply a primer to the surface to be painted. Make several thin layers, letting each layer dry for 15 minutes. The primer, like paint, is usually supplied in a special spray can. When choosing its color, be guided by the color of the paint, because the primer adds its own shade to the final result. When finished applying the primer, let the frame dry for 24 hours, then smooth the surface with sandpaper.
When working with primer and paint, be sure to use protective equipment (gloves, masks, glasses).
Painting
Apply several coats of paint in thin layers in the same way as the primer was applied. Then dry the frame and smooth the painted surface with sandpaper. When doing this, use medium grit (1200) paper.
Apply 2 - 3 coats of clear varnish. Try to keep the can as far away from the surface as possible to avoid the appearance of grains on it.