The need to know the numbering of weeks in a year arises when solving various management issues: drawing up weekly reports, weekly planning, and implementing weekly control.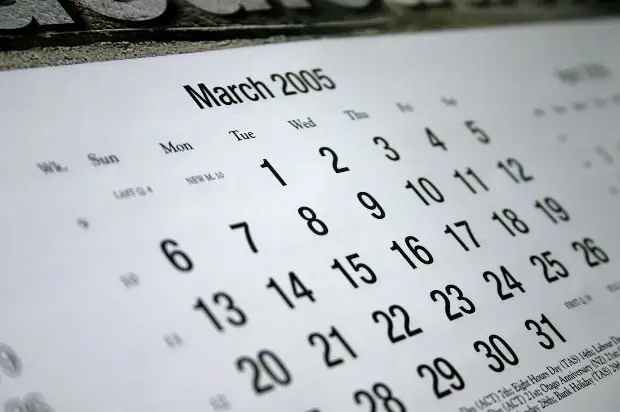 Instructions
Step 1
Among the traditional ways of numbering weeks, there are three associated with commercial activities.
The first week is considered the one
one). which is the first day of the year;
2). which contains all the days of the week, that is, complete;
3). which has the first Thursday of the year.
Step 2
In the first case, a difficulty arises, because there may be 52 or 53 weeks in a year, and besides that, January 1 may fall on Sunday, and the last six days of the outgoing year may be in the first week of the new one.
Step 3
The practical application of the second method of counting the weeks of the calendar is complicated by the fact that in different countries the beginning of the week is counted from different days. For example, in Orthodox and many Catholic countries, the first day of the week is Monday. While in the Protestant - the resurrection. And with the synchronization of the Gregorian and Oriental calendars, the contradiction intensifies, because in the Jewish calendar, the first day of the week is Saturday, and in the Muslim calendar, it is Friday.
Step 4
The latter method of counting weeks is established by the acts of the International Organization for Standardization (ISO), and it is used by more than 150 countries. And since July 1, 2002, by the Decree of the State Committee of the Russian Federation for Standardization and Metrology in Russia, the interstate standard GOST ISO 8601-2001 has been put into effect. Azerbaijan, Armenia, Belarus, Kazakhstan, Kyrgyzstan, Moldova, Tajikistan, Turkmenistan, Uzbekistan and Ukraine have also joined this document.
According to this standard, the first week of the year is considered the one in which there is the first Thursday of the year, and the account is already from it. And the ordinal number of the week is written in two Arabic numerals from 01 to 53.