The massage table is very helpful. It doesn't matter if you are a beginner massage therapist or someone in your family is simply fond of massage. The most important thing is that anyone can make it, having a small set of tools and simple skills in working with wood.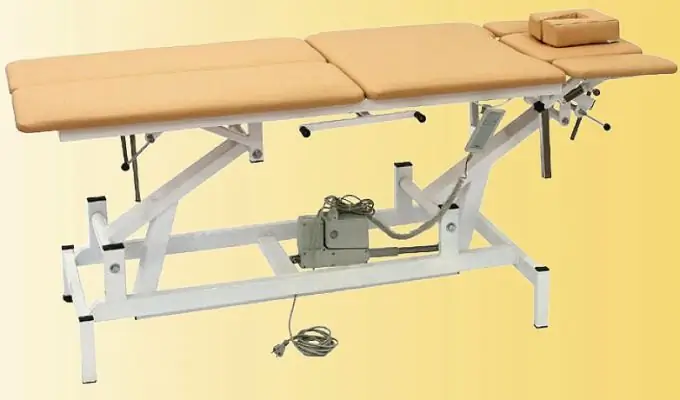 Necessary
Drill, screwdriver or screwdriver, hammer, chisel, hand saw, electric jigsaw, furniture stapler, pencil, knife, tape measure and square
Instructions
Step 1
Cut two pieces of 600x900 mm from plywood with a thickness of 9 mm using an electric jigsaw. In one of them, make a round hole for the face, measuring 180x110 mm.
Step 2
Make 2 frames from 20x50 mm timber, external dimensions - 600x900 mm. Connect the timber using self-tapping screws (45mm). Connect both frames to the countertops using 20mm screws or nails.
Step 3
Upholste everything with leather (for example, you can use other material). This is necessary so that it is comfortable and convenient to lie on the tabletop. Glue some foam to the countertops. To do this, apply glue to the foam rubber and the plane of the tabletop, after 5-10 minutes, press the surface together as tightly as possible. Cut the foam along the contour using a knife that protrudes beyond the countertop. Do not forget about the hole for the face, there you also need to cut out foam rubber along the contour of the hole.
Step 4
Wrap the countertops in leather, gently wrap the edges inside the frame and "fire" it along the outline using a furniture stapler. This process is not very difficult, as it seems at first glance - you need to start "shooting" from the long sides. At the end, you need to move on to the formation of the corners. The most important thing is to be careful and take your time.
Step 5
Make two supports. To do this, cut the workpieces into separate sets of supports from a bar using an electric jigsaw or a hacksaw. It should turn out 12 blanks. Using self-tapping screws, overlap the workpieces. Trim the edges at an angle of approximately 41 degrees. The main thing is that a certain angle is observed on all legs of the supports.
Step 6
Using a square and a pencil, mark the countertop for the support mountings.
Step 7
Attach the legs to the countertop using self-tapping screws.