If you have already purchased a lifejacket, you are faced with the question of its correct use. It should be borne in mind that even such a seemingly simple procedure for putting on a life jacket requires strict adherence to several rules. Only in this case can you be sure that he will perform all the functions that are required of him.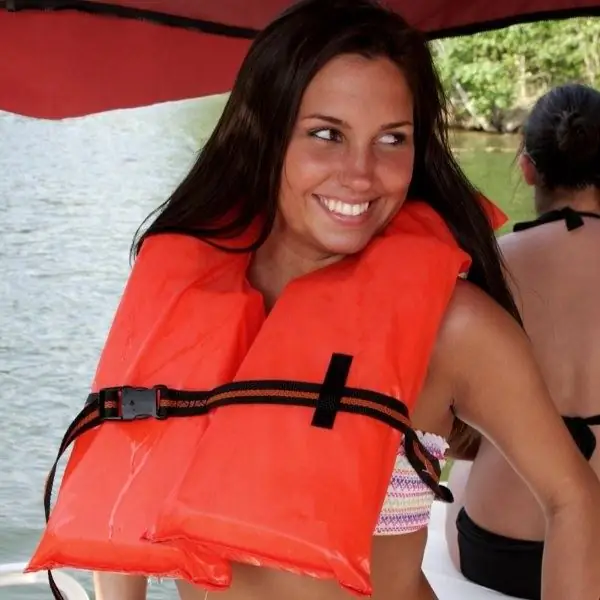 How to use a life jacket correctly
When donning a lifejacket, the following procedure must be followed:
- fasten the product;
- tighten the side slings;
- make sure that the slings are tightened and buckles, zippers and fastexes (fasteners for connecting belts and slings) are fastened;
- make sure that the product does not chafe the neck, chin and armpits;
- check that it does not slip if someone pulls on the shoulder straps;
- make sure that it will not be disrupted by the flow of water.
It is also important that you feel comfortable and comfortable wearing the lifejacket.
It is necessary to periodically check the condition of the foam, which is inside the product, in order to return it to its original state after squeezing. If this does not happen, such a sign indicates the approach of aging, in which the lifejacket loses its useful properties (in particular, buoyancy).
If the product has ceased to fit the body tightly over time and even careful adjustment does not correct this, you should not make any modifications to its design yourself. Then you need to buy another vest.
Recommendations for the use of a lifejacket
There are a number of recommendations that will help you avoid unpleasant situations on the water, as well as extend the life jacket's life.
When choosing a product, pay special attention to its size. For example, it should allow you to put warm clothes under the vest in case of cold weather.
If you are choosing a lifejacket for a child, wear the product over it and zip it up. Then put your hands under the shoulders of the vest and try to shake the baby out of there. If it was possible to do this or the ears and nose of the child were covered with a vest, it is necessary to replace the product with another, smaller one.
Make sure that your individual information is printed on the product: name, Rh factor and blood type. Store the vest only in a well-dried and well-ventilated place. Do not dry the product over open fire or using heating devices. In addition, it is not recommended to sit on the vest and also to leave it in the boat after getting out of it.
In the event that you are thrown overboard into the water, every effort is required to assume an upright position. If there are several people in the water, they should stay in a group, since then they will be more noticeable. In addition, in this way it is possible to keep warm for longer.