The procedure for obtaining a foreign passport is no more complicated than establishing a civil one. Most likely, in some ways it will even seem easier to you. You need to take a coupon for a specific date and time in the FMS, collect the necessary documents, fill out a questionnaire and appear for an interview. After a certain period of time, you just come and pick up your new passport. To issue a passport, you need to bring the following documents.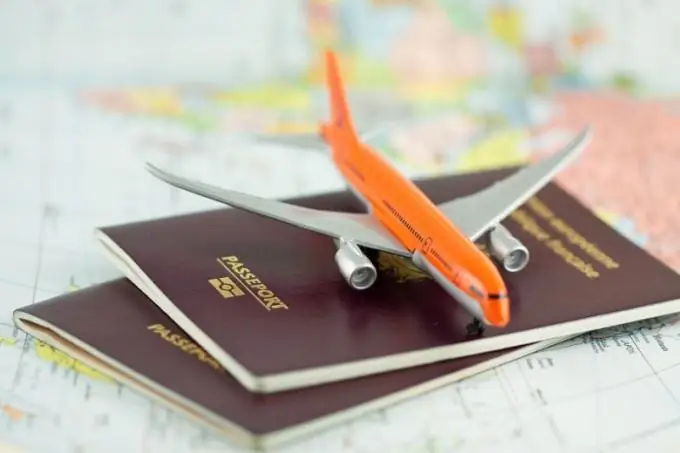 Instructions
Step 1
Completed application form for a passport in duplicate. The form of the questionnaire can be downloaded from the FMS website and printed, or you can come to the department and ask to issue it there. If, when filling out the questionnaires, you did not have enough lines to describe your work activity, then you need to fill out another questionnaire where you need to continue what you started. The application form is certified at the last place of work with a seal. The questionnaire can be filled in by hand or on a computer. It is allowed to use blue or black ink. Blots, corrections and errors are prohibited. All information in the questionnaire must be accurate.
Step 2
2 photographs 35 x 45 mm, black and white or color. Pictures should be on matte paper, in informal clothes. For a new passport (valid for 10 years), you do not need to attach them, you will be photographed during the delivery of documents.
Step 3
Passport of a citizen of the Russian Federation. Photocopies of individual pages may be required.
Step 4
When changing your passport for a new one, then attach the old one as well, but only if its validity has not yet expired. You do not need to apply for old passports. When a new passport is issued, the old one is canceled.
Step 5
Receipt of paid state duty. Specify the amount of the state duty, as it differs depending on which type of passport you have chosen.
Step 6
If a foreign passport is requested by a serviceman or employee of federal executive bodies, he must also attach the permission of the command made in accordance with the relevant rules.
Step 7
To obtain a passport for children under 14 years old, you need to attach an application form in one copy, one photograph 3.5 x 4.5 cm, a birth certificate, a civil passport of one of the parents and a paid receipt of state duty.
Step 8
Children from 14 to 18 years old need to attach all the same documents as children under 14 years old, except for a birth certificate. Instead, you should show the FMS employees your own RF passport.
Step 9
For young people of draft age, you need to show a certificate from the military registration and enlistment office stating that you are not drafted into the army at the time of submission of documents and in the near future after that. If you have a military ID, you must attach a copy of it.