Creation of ship models is both difficult and very interesting occupation, as it allows a person to realize his creative potential. In addition, creating wooden models of old sailing ships, the craftsman seems to plunge into the past. Over time, for someone, such an occupation becomes a profession, and for someone - a hobby of their whole life. But first, you can try to make a small boat out of wood as a present for your child.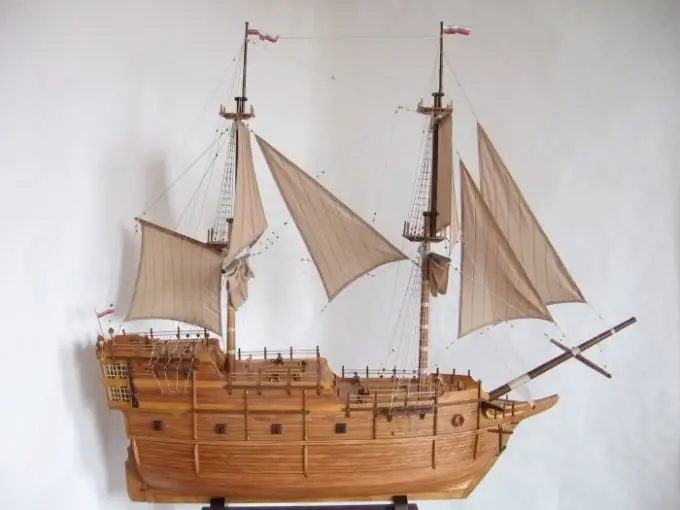 Necessary
- wooden blanks;
- varnish;
- paints and a set of tools for wood.
Instructions
Step 1
Of course, you should have a good idea of the appearance of the future ship. And here fantasy alone is not enough. Find a picture of the ship with its dimensions. Sources can be magazines, special literature or the Internet. It is also worth deciding which model you are building - operating or "land". If the model you have chosen does not have dimensions, then make a small drawing and determine the dimensions yourself. It may be necessary to make some adjustments in the process of creating the model. It is better to highlight the final version of the drawing with a bright color - red or orange.
Step 2
Each model has its own characteristics. Select wooden blocks in such a way that the main parts of the boat are made from one single piece and preferably without any foreign inclusions.
Step 3
After that, apply the markings to the wooden blanks. Each of your actions should be carefully compared with the drawings. When you are finally convinced of the correctness of the marking and outlined it with a pencil for fidelity, you can proceed to sawing out various parts.
Step 4
Put numbers that indicate the order of collection and joining of parts, this will greatly simplify and speed up your work. Do not rush to use glue in your work, first assemble the model, and only then glue the parts.
Step 5
There is another option to join ship modeling - to assemble ships from ready-made parts. Today you can buy any model, however, such a "constructor" is quite expensive. Currently, 6-7 manufacturing companies are known to work in this direction. But, having become the owner of a model of an ancient sailing ship, you need to be prepared that it may take several months to assemble it. Plus, you will need a set of special tools, which includes a nail, a rail cutter, a template for cables, etc. In addition, you will need several types of adhesives (PVA, "Moment-Joiner"), a set of needle files, canvases for metal, small diameter drills (1-1, 25), several types of varnish for wood ("Oak" and colorless), brushes, tweezers, etc.