At the beginning of the 21st century, inflatable models of various types of military equipment entered service with the Russian army. These models skillfully imitate tanks, fighters and anti-aircraft missile systems. Next in line are new samples of military equipment ordered by representatives of the Russian military department. Why did the military need such "toys"?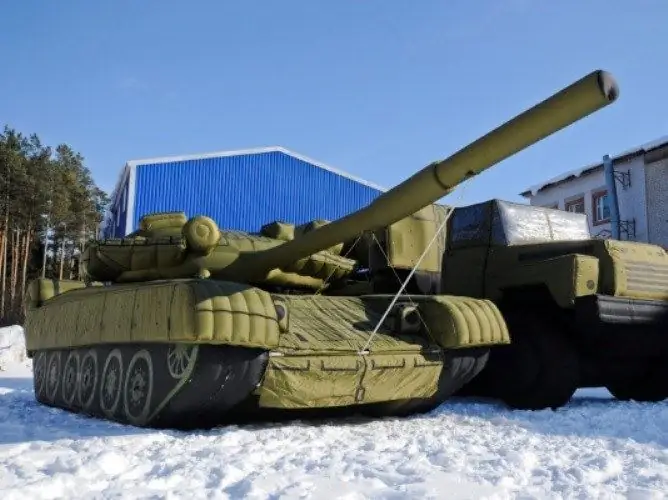 Mislead the enemy
In modern conditions, military operations are based on obtaining accurate information about the location of enemy forces. In this case, data is obtained, as a rule, through aerial and space reconnaissance. Reconnaissance aircraft and satellites regularly and systematically supply their headquarters with the latest information on the deployment of enemy military equipment.
The capabilities of the technical means of detection are such that it is quite difficult to hide from them, for example, the placement of air defense positions or a tank unit.
In order to gain an advantage, each of the opposing sides seeks to create a false idea about the location of tactical and strategic objects, about the combat power and number of subunits. Not only modern electronics comes to the aid of the military, but also simpler and more elegant methods of disguise. Simplicity goes hand in hand with efficiency.
Cheating tactics in action
It is to mislead the enemy that simplified inflatable models of military equipment are intended. Models of technical equipment are made in full size, and they can be put into operation in a matter of minutes. Such technical devices are capable of deceiving an observer located at a distance of hundreds of meters from a false position.
Some inflatable models reproduce radiation in the radar and infrared frequency range, which is recorded by means of enemy detection.
It is not so easy to create even the most elementary inflatable model. Technologists of defense enterprises use special tricks so that when inflated, the model of the tank does not turn into an ordinary ball, but retains its contours. The layouts are reproduced only in general form, without small details, but even so, they perform their deceptive function very well.
In a real battle, the enemy pilot is not able to distinguish such a mock-up from a real target and will spend time and ammunition on destroying it. It should be borne in mind that the models are designed so that the turret of a tank, for example, can rotate. And anti-aircraft missile systems have the ability to change their position, moving from a traveling to a combat position.
How economically justified is the use of such devices? There is no need to prove that the cost of inflatable products is several orders of magnitude lower than the cost of manufacturing real equipment. The ingenuity of military engineers can significantly save money and material resources.