Periodic inspection, adjustment of the centering and tension of the tracks is the main thing in the maintenance of the Buran's undercarriage. For the well-coordinated operation of all chassis mechanisms, it is also necessary to lubricate and tighten the threaded connections in a timely manner. All this will help to avoid unexpected breakdowns of the snowmobile and excessive wear of its parts.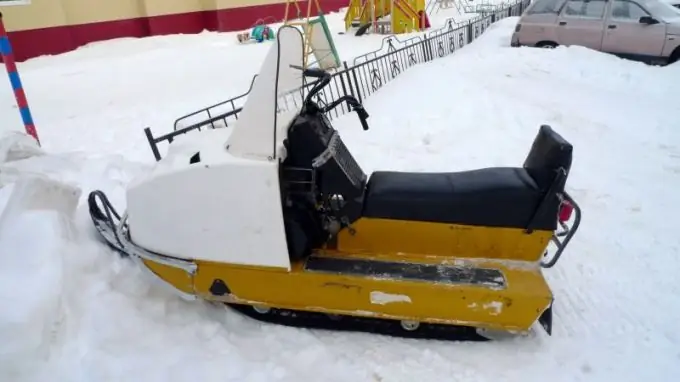 It is necessary
Spanners
Instructions
Step 1
During operation, the undercarriage parts, especially the teeth of the driving and driven sprockets, wear out quickly, and the track belt stretches. This is why it is necessary to constantly adjust the tension and centering of the tracks. If the belt is loosely tensioned, the tracks can fly off the sprockets on the move, which will cause excessive wear on their edges and teeth.
Step 2
To check and adjust track tension, raise and secure the snowmobile. In this case, the tracks should turn freely. Find where the balancer rollers are attached in front of the snowmobile. At the middle bracket, locate the bottom surface of the frame square. The distance between it and the inner surface of the upper track of the track should be between 55 and 65 mm.
Step 3
If the tracks are not sufficiently tensioned, you need to loosen the axle nuts of the balancer shafts of the guide sprockets. Turn the adjusting bolts clockwise with a wrench. Thus, achieve normal tension. If you need to loosen it, turn the bolts in the opposite direction. Tighten the self-locking axle nuts after adjustment.
Step 4
Make sure that the long ends of the balancer springs, when adjusting, are inserted into the middle slots of the combs, which are welded to the Buran frame. These combs allow you to change the tension of the tracks depending on the condition of the snow cover. If the snow is compacted tightly, the ends of the springs are translated into the front slots, increasing the tension. In loose, deep snow, the ends of the springs are translated into the rear slots, thereby reducing the tension of the tracks.
Step 5
After adjusting the tension, center the tracks. To do this, run the engine at such a speed that the tracks slowly begin to rewind. Check if the sprocket teeth mesh with the tracks. The gap between the engaging tooth and the corresponding track window should not be less than 0.5 mm. On both sides, the clearances between the balancer cheeks and the track edges must be the same.
Step 6
While turning the adjusting bolt, loosen the axle nut from the side where the track is closer to the cheek of the balancer. Make sure the gap is the same on both sides of the track, and retighten the nut. After tensioning and aligning the tracks, tighten the nuts as far as they will go and tighten the bolts clockwise half a turn.