The desert is not the most welcoming place. The scorching sun and high temperatures make it unbearable for a person to stay in the sand. In addition to the danger of getting heat or sunstroke, the unlucky traveler faces another obstacle - thirst. After all, it is not so easy to get water in the desert.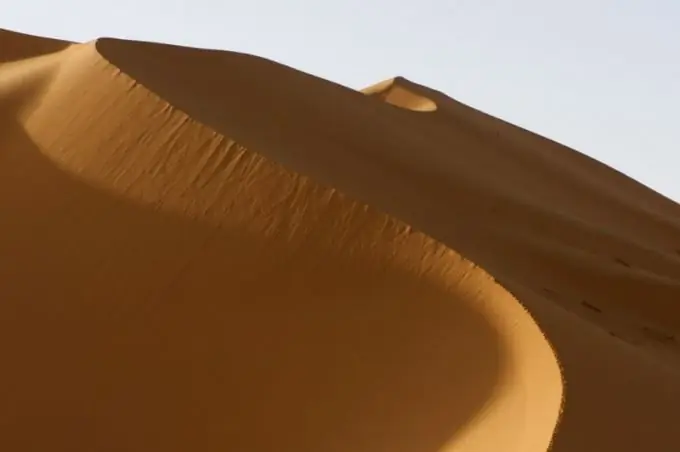 Instructions
Step 1
Basically, life in the desert is centered around oases - islands of greenery that spread around a body of water formed by the presence of groundwater or frequent precipitation. It is most reasonable not to leave such places without a map and a supply of fresh water, because the path from one oasis to another is often not close.
Step 2
You can find water in the desert by observing the behavior of animals and birds. Traces of animals, their droppings, holes in the sand indicate the presence of living creatures in this area, which would have been impossible if there had not been at least a small source of water nearby. Also, the presence of life-giving moisture will be indicated by flocks of birds circling in the air at dawn or dusk, and the growth of such plant species as willow, palm, elderberry, triangular poplar, cattail, rhubarb.
Step 3
If there is no sign of water nearby, you can quench your thirst by using the abundant desert cacti, date palms, baobabs and saxauls. The pulp of cacti is squeezed out, thereby obtaining water from them. Chewing saxaul bark can also quench your thirst for a while. Moisture from baobabs and date palms is obtained in the same way as birch sap, by making a hole in the bark.
Step 4
The difference between daytime and nighttime temperatures in the desert is enormous, and dew falls during the night. This water can be collected from rocks, but this should be done before sunrise. A daylight can dry out moisture in a matter of minutes.
Step 5
Sometimes the desert only seems waterless. At times, there are dry streams in it, which can lead a traveler suffering from thirst into despair. However, if you dig into the bed of the stream, there is a high chance that water will appear under the layer of sand.