Many people start to keep a diary. A couple of notes on the first page, and the notebook migrates to the far shelf, they don't remember or use it. But keeping a diary can make your work easier and help you not to miss a single important thing.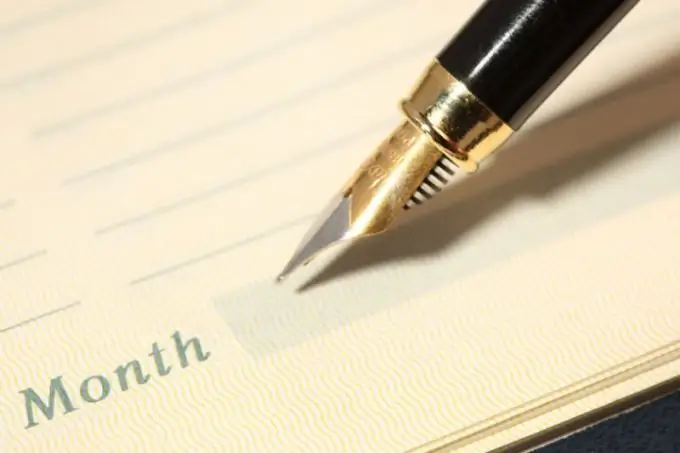 Instructions
Step 1
Choose a stylish diary with a nice-touch cover, made of quality paper. It is pleasant to hold such an accessory in your hands, put it on the table, take it with you at the conference. You like it, which means that the chances that you will use it are significantly increased.
Step 2
Some people love date planners, while others buy regular notebooks and fill in the information they need on their own. The disadvantage of day planners with printed days of the week is that the space for entries for each day is fixed, and confusion will arise if you get carried away with planning and exceed the available space.
Step 3
To make it more comfortable for you to navigate in your diary, you can divide the available space into two or three parts, depending on the need. In one column, write the current work tasks: which client you need to call, which document to send for signature. In the second - household chores: a shopping list, a reminder to pick up things from dry cleaning. The third column may contain your personal plans. For example, if a book was advised to you, you can write down its title there so that you don't forget to read it.
Step 4
An ordinary notebook can turn into a very handy diary, which will become your irreplaceable assistant. Divide it into sections where you will enter plans for the month, plans for the week, plans for every day. Leave a few pages to write down smart thoughts that come to you during your work day.
Step 5
Try to write in your diary every day. Review the lists you have made, plan new things. Be sure to cross out completed assignments. You will feel satisfaction as your to-do list gradually shrinks.
Step 6
When planning things, use only 60% of your time. Leave a small margin for yourself in case something doesn't work out right away. Then unforeseen circumstances will not greatly affect your routine.