For the successful passing of the state exam, it is important not only to prepare well, but also to make a positive impression on the commission. A tailored suit and smart appearance will characterize you as someone who is serious about interviewing a state examination board and will help you to gather and feel more confident.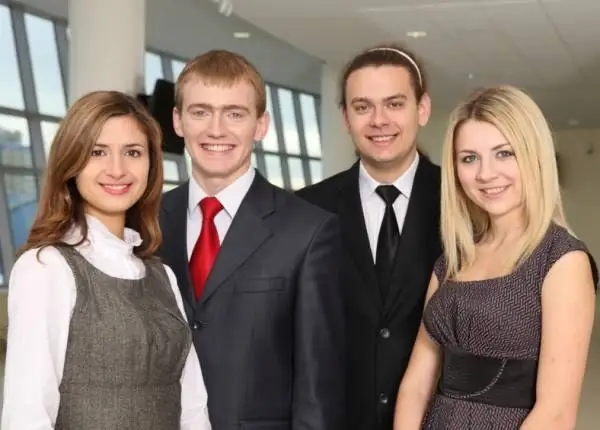 Instructions
Step 1
Even if the charter of your educational institution does not regulate the dress code of students for exams and the management is liberal about the appearance of students, do not forget that teachers from other universities will be present in the state commission that accepts exams, and they may be more conservative. Therefore, it is better to prefer the classic or business style. Jeans and T-shirts, no matter how expensive, high-quality and stylish they are, are not clothes for the state examination.
Step 2
Girls are advised to choose a blouse or shirt and skirt or straight or slightly flared trousers. A strict dress made of dense fabric, an "office" sundress with a length just above or just below the knee, worn over a shirt, will look good. It is better to choose a dress with long sleeves, a length of "three quarters" is also allowed. In the warm season, blouses and dresses with short sleeves are not forbidden, but their cut should be simple and strict - business and classic style does not welcome an abundance of details. A jacket or vest over a blouse will not be superfluous.
Step 3
Underwear that shows through from under the garment, low-waist trousers that reveal a strip of skin, deep necklines and high cuts are not acceptable, as are overly tight or layered clothing. Tights or stockings are required, while the elastic of the stockings should not be visible from under the edge of the skirt.
Step 4
If the classic version of "white top - black bottom" seems too boring to you, stop your attention on shades of gray, brown, blue. Discreet checks or stripes are allowed; blouse or shirt can be beige or blue. It is best to avoid bright colors and noticeable patterns.
Step 5
It is better for girls to choose the most discreet makeup, manicure in natural tones. The perfume should be unobtrusive, barely perceptible - or it shouldn't be at all. Do not overuse jewelry - small earrings or a thin chain with a pendant will be enough.
Step 6
Young people have fewer choices in classic and business style. For the state exam, it is better to wear a formal suit with a shirt and tie (if you are not sure that you can tie a tie correctly, it is better to give it up completely).
Step 7
Despite the old student tradition that warns against washing your hair on the eve of the exam, you should not come to the exam with dirty hair. Long hair is best collected in a bun or ponytail (you can also braid a fashionable intricate braid), short hair should be neatly styled. A neat and well-groomed appearance will add points to you in the eyes of the commission representatives.
Step 8
It is better to choose closed shoes for a girl, with low heels. Young men can come in classic shoes or lace-up boots - leave sneakers for jogging or informal events.