Clay is extracted from the ground, usually in places where rivers once passed. It is a product of the earth's crust and sedimentary rock, washed out and formed due to the destruction of rocks during the process of weathering.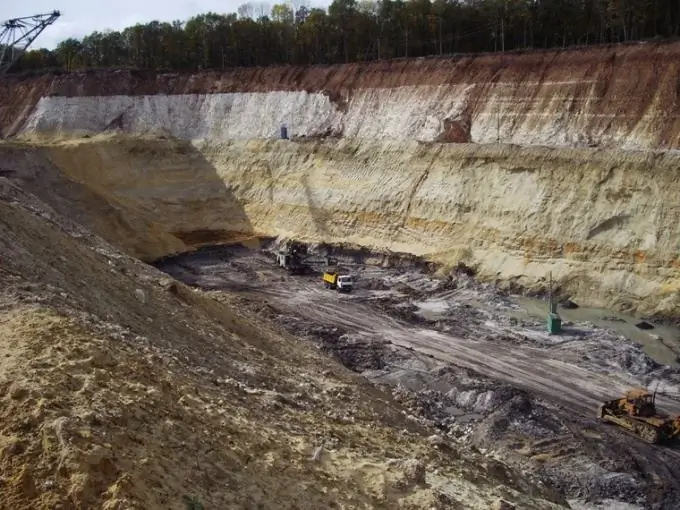 Instructions
Step 1
Clay is mined using excavators. The machines cut material in layers for greater efficiency, because clay is deposited in layers. The development of the deposit is carried out until the equipment reaches the loam - then they switch to work on another deposit of the fossil.
Step 2
Most often, clay is mined in quarries of various depths. In the summer, development begins with the removal of the topsoil and the arrangement of the necessary roads and entrances to the development site. Unnecessary rocks that interfere with production are cleared. If the clay lies deep under the groundwater, drainage and drainage devices are installed. At the same time, the material is extracted from the ground, and then it is loaded and transported to the place of processing and use.
Step 3
Usually, mining is carried out in an open way and in most of the fields the process is mechanized - bulldozers, belt conveyors, forklifts, dump trucks, etc. are widely used. If the clay lies under large layers of hard rocks (dolomite or spar), then blasting operations are carried out to loosen the soil.
Step 4
Production does not stop in winter. To prevent freezing of the soil, the quarries are insulated with sawdust, peat and other materials with a low level of thermal conductivity. Sometimes the thickness of the insulation reaches 70 cm. The transported clay is covered with a tarpaulin so that it does not freeze during delivery to the place of production. In closed quarries of server areas, where the ground is seriously frozen in winter, greenhouses are equipped - closed-type structures with equipped heating devices. Tepfies are mounted on rollers and moved along the rails if necessary.
Step 5
For the delivery of clay, belt conveyors are used, which make it possible to fully automate the transportation process and make it continuous. If the warehouse is located far from the development site, the raw materials are delivered in self-unloading wagons to the receiving trench and loaded into special compartments.