The cut-off machine is designed for sawing any kind of metal - from aluminum to steel. In the field of trade, there is a huge selection of machines at different prices, but if you wish, you can make it yourself from scrap materials.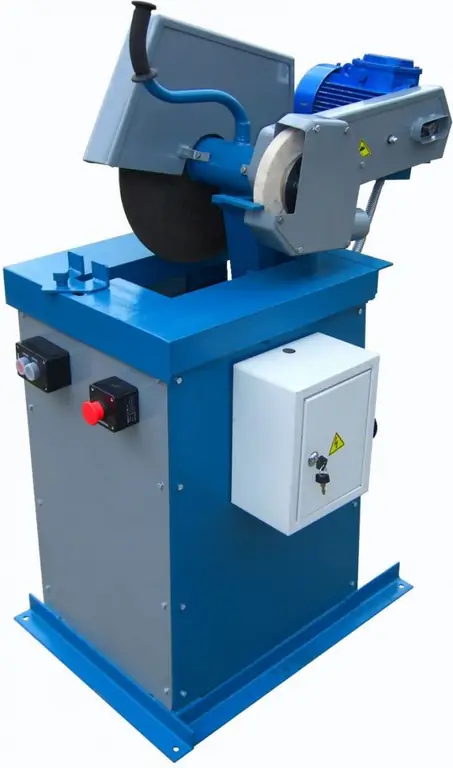 Necessary
- corner;
- channel;
- drill;
- welding machine;
- shaft;
- coil;
- Electrical engine;
- bearing time;
- automatic machine;
- button;
- starting circuit;
- electrical box for wiring diagram layout.
Instructions
Step 1
First you need to weld the frame. Corner number 25 is suitable for its manufacture. To make the frame, use a welder or bolts and a drill. Cut the corner to the desired length, weld or twist the upper and lower frames, weld the legs. For a cutting machine, frame dimensions 40x60 cm, height 1.20 cm are suitable.
Step 2
Weld channel # 10 to the frame: this will significantly strengthen it and allow you to subsequently cut off any kind of even the most durable alloy.
Step 3
Screw two sturdy steel posts to the channel. First, cut out a 40x60 cm square, then screw it in with bolts or weld it with a welding machine.
Step 4
In a turning shop, order a 12 mm shaft and a spool that you will attach to the manufactured shaft. The cost of turning services depends on the region in which you order the parts and on whether you bring your own steel or have everything made from ready-made materials.
Step 5
Connect the shaft with the attached squares, attach the coil to it. Weld channel # 10 to the coil. On it you will install an electric motor and bearing support.
Step 6
Buy an electric motor. For a cutting machine, a power of 1.5 kW is enough, giving 1430 rpm. If you have three phases connected, then the best option is to purchase a more powerful three-phase motor, which quickly picks up speed and the cutting is done more quickly.
Step 7
For the layout of the electrical circuit, buy a ready-made box, its cost will be much cheaper than if you made it yourself. To connect the machine, you will need a three-pole starting machine, which you connect to the engine, an emergency stop button, and a starting circuit.
Step 8
Connect the motor through a box and a three-pole circuit breaker. Emergency stop button - directly.
Step 9
Attach a cutting disc of the size you need to the assembled machine, cover everything with a protective cover. Further, you can use the manufactured cutting machine for its intended purpose.