If you have to work frequently and a lot with wood, the woodworking machine is simply an indispensable tool. With the help of such a machine, you can plan logs and wooden blanks, you can make longitudinal and cross cuts. Of course, you can buy a ready-made machine in specialized stores - the choice is quite large. But their high price confuses many. How to be in a similar situation? Try to make a woodworking machine yourself.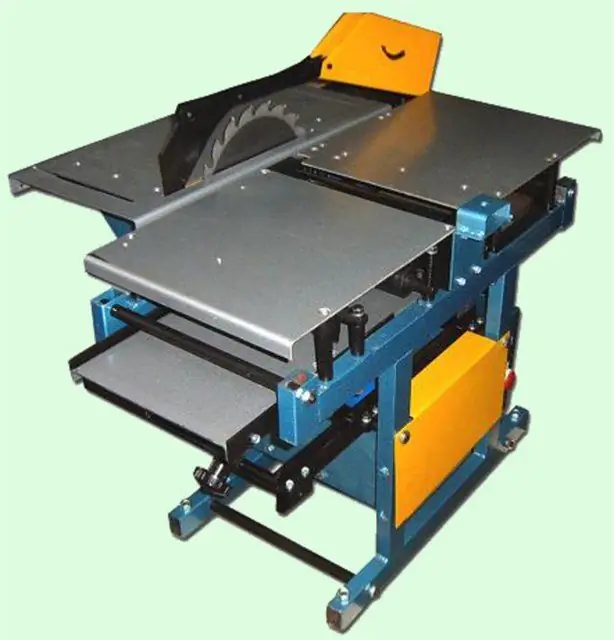 Necessary
- duralumin sheets 8 mm thick;
- fixing screws;
- crossbars;
- corners;
- channel;
- electric motor;
- drive belts.
Instructions
Step 1
Make the frame of the machine To make the frame of the machine, take two metal frames and connect them together. In the lower part of the frame, they must be connected by supports for the engine, and in the upper part - with crossbars. The frame of the machine must be supported by the base spars. Attach the work table to the frame at the top. In order to be able to move the machine, wheels must be mounted at the ends of the base beams. Fit screw jacks next to the wheels. With the help of these jacks, the machine is installed on metal supports at start-up.
Step 2
Place the electric motor on the cradle to tension the drive belts. Attach the box with the capacitor bank to the top of the frame. Close the frame walls with duralumin sheets. Install an inclined chute inside the frame to collect sawdust and shavings.
Step 3
Make a working table of a woodworking machine The working table is made of four duralumin plates - two large and two small. Plates are mirrored. Attach the boards with the countersunk fixing screws. All screw holes must be the same size and mirrored. Small slabs facing the cutting head are cut at 30 degrees. Under the back plates, it is necessary to put strips with a thickness of 1.5 mm.
Step 4
Attach four identical knives with four cutting edges to the drum of the cutterhead. Slide the V-belt drive pulley onto one end of the shaft. Fasten the saw blade to the other end of the shaft using a tightening nut and special washers.
Step 5
Mount the lift table and attach the rail to it at a 45 degree angle. The lifting of the table should be carried out by moving its frame along the frame of the machine. This table will also adjust the cutting depth.