Maya Kristalinskaya is a famous Soviet singer with a bright creative personality. Her name has become a symbol of the stage of the 60s and 70s. The songs performed by her were extremely popular, and it was impossible to get a ticket for her concerts. She lived a short but very rich creative life.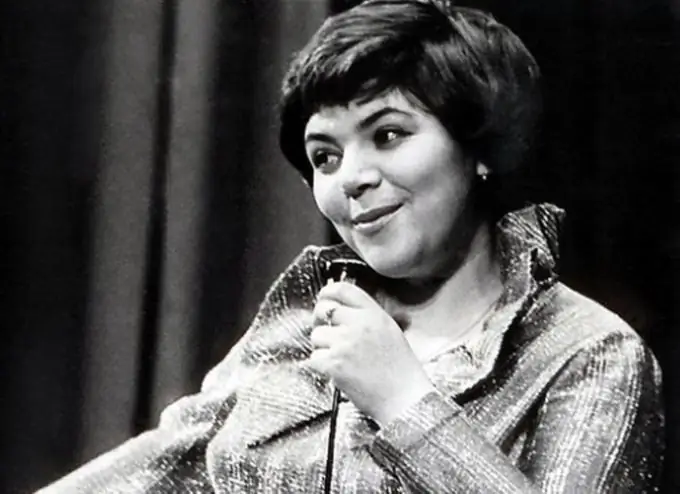 Life and art
Maya Vladimirovna Kristalinskaya was born on February 24, 1932 in Moscow. She was named after her older sister, who died at the age of two.
Maya's father, Vladimir G. Kristalinsky, was a mathematician. He made a living composing all kinds of puzzles and charades, which were published in various periodicals.
The atmosphere of creativity reigned in the Kristalinsky family. Her uncle worked as a director in musical theater, and aunt Lilia was an actress and singer in the theater. Stanislavsky and Nemirovich-Danchenko. Thanks to such relatives, Maya began to show interest in the acting profession from a very early age. Once my uncle gave his little niece an accordion. Maya learned to play it on her own.
Later, Maya began to sing in the children's choir under the direction of Isaac Dunaevsky, performed in school amateur performances. True, Maya herself never wanted to connect her future life with the singing profession. After leaving school, she entered the Moscow Aviation Institute.
While studying at the institute, Kristalinskaya takes an active part in amateur performances. Meanwhile, the World Festival of Youth and Students begins in Moscow. Maya's speeches at this international forum attracted the attention of professionals. They started talking about her in musical circles, however, the ensemble, in which she performed at that time, was severely criticized in the Soviet press.
After graduation, Kristalinskaya tries to combine work in a design bureau and performances on the stage. Soon she received an offer to start a professional career as a singer. Maya Vladimirovna begins to work in the legendary jazz orchestras under the direction of Eddie Rosner and Oleg Lundstrem.
The audience immediately fell in love with this bright and talented young singer. The songs performed by her were sung literally by the whole country. The disc with the composition "Two Shores", released in 1960, made Kristalinskaya a truly popular favorite - 7 million copies were sold.
In 1966, viewers named Kristalinskaya the best singer of the year. In her repertoire there were many soulful and beautiful songs that simply could not leave the listener indifferent. She collaborated with many famous composers of that time: A. Babadzhanyan, A. Pakhmutova, M. Tariverdiev.
The song "Tenderness" became the peak of creativity for Maya Kristalinsky. In 1974 she was awarded the title of Honored Artist of the RSFSR.
She had everything that an artist can only dream of: nationwide love and recognition, numerous tours and an excellent repertoire. However, her song "Rain in Our City", which sounded in the New Year's "Blue Light" in the late 60s, was very disliked by someone from the television management.
At that time S. Lapin was appointed chairman of the State Television and Radio Broadcasting Company. He decided to completely change the repertoire of songs that were supposed to be on the air. Thanks to his efforts, many famous performers were removed from filming on television at that time. Among them was Maya Kristalinskaya.
Now Kristalinskaya's concerts were held in rural clubs and houses of culture. The singer tried not to lose heart. During her forced creative downtime, she began to publish her articles in the newspaper "Evening Moscow" and made a translation of the book "Reflections" by Marlene Dietrich.
Despite the lack of performances, in 1974 Maya Vladimirovna Kristalinskaya was awarded the title of Honored Artist of the USSR
Personal life
The first time Kristalinskaya got married in 1958. Arkady Arkanov became her chosen one. They met at an evening at the Polytechnic Museum, and just a few days later they applied to the registry office. This hasty marriage lasted less than a year. They divorced 10 months later. The official divorce took place in 1962.
Then Kristalinskaya had a long relationship with a well-known journalist of the popular magazine Ogonyok. This novel was a great test for the singer. Her chosen one was distinguished by a scandalous character and a penchant for alcoholism. The beatings and constant showdowns eventually led to a breakup.
In 1961, fate prepared another test for Kristalinskaya. She was diagnosed with lymphogranulomatosis. The singer was lucky with the attending doctors. Hematologists Kassirsky and Vorobyov did everything possible to prolong Maya Vladimirovna's life. They managed to do something incredible: Kristalinskaya lived for another 25 years.
Exhausting courses of chemotherapy gave way to concerts. Kristalinskaya did not want to give up and continued to perform. To hide the traces of the disease from the audience, she had to perform in public with a scarf around her neck. There were many rumors among the people about this detail of her wardrobe.
The main man in the life of Kristalinskaya was the famous architect Eduard Barclay, whom they met while visiting mutual friends. The marriage of Barclay and Kristalinskaya lasted almost twenty years.
Maya Kristalinskaya could not have children, but with Eduard Barclay they lived very amicably and interestingly. In 1984, they were going to go on vacation together, but Maya Vladimirovna's husband suddenly felt bad, and he died suddenly.
Heartbroken Kristalinskaya decides to suspend treatment. Maya Kristalinskaya died on June 19, 1985, having outlived her husband for exactly one year.
Maya Kristalinskaya was buried at the Donskoy cemetery. A touching epitaph is written on her grave: "You did not leave, you just left, you come back and you will sing again."