In order to be able to officially engage in certain types of activities, an enterprise must register them properly in the territorial tax authority and statistics bodies. When making changes related to the types of activities, the company is also obliged to notify the relevant control and accounting authorities.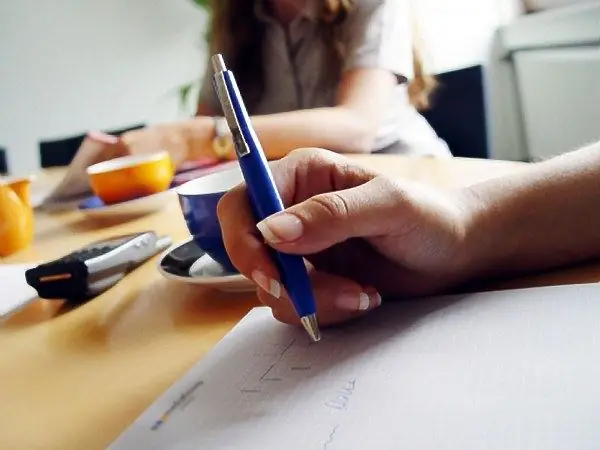 Necessary
statement Р14001
Instructions
Step 1
Purchase or download the P14001 application form from the Internet. If you are going to fill out this application by hand, do not use pens with different paste colors, avoid mistakes, corrections and blots. If you are filling out a document electronically, do not leave meaningful fields blank. Filling out the form in both printed and handwritten text is not allowed.
Step 2
Indicate in the first sheets of the application all the necessary information about the company, in the required field put a marker explaining what changes the company makes to the types of activities (adds or excludes them). If the firm is adding new activities and excluding old ones at the same time, check both boxes.
Step 3
Specify the codes corresponding to the selected types of activity, according to the All-Russian Classifier of Economic Activities (OKVED). When adding new activities, go to sheet H. If you exclude activities, open sheet O. If the main activity does not change, put a dash in the first line. Start introducing additional (or excluded) activities from the second line.
Step 4
If for the added or deleted codes according to OKVED you do not have enough space on one sheet, create a second (third) sheet H or O. Each code must have at least three characters, and the names of the activities must fully comply with the wording given in the classifier.
Step 5
Fill out the sheets with information about the applicant, without signing anywhere. Do not staple the sheets. Contact the notary office to certify the P14001 form. The applicant must certify the document. He needs to have a passport with him. Keep in mind that there is a fee for notarization services.
Step 6
Send the certified application form to the territorial tax authority by mail or submit it in person no later than three working days from the date of the decision to amend the activities of the enterprise. Have your passport and, if required, a power of attorney with you.
Step 7
After the changes are made to the Unified State Register of Legal Entities, receive a certificate confirming the changes and an extract from the Unified State Register of Legal Entities from the tax authority. Contact Goskomstat, providing employees with a copy of the new certificate, an extract and (if necessary) the constituent documents of the enterprise. Receive a new letter from Goskomstat.