All hotels have a visitor registration system. Most often, the receptionist will ask you to present an identity document and fill out a guest card.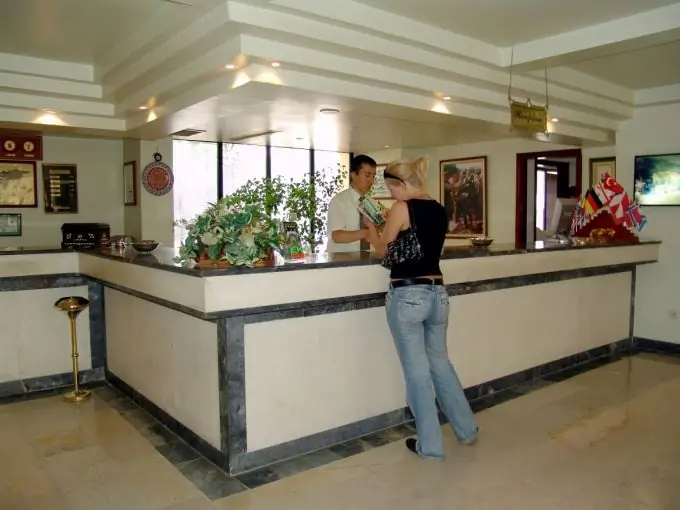 Instructions
Step 1
Hotel forms usually contain several items. The first are given name, surname and patronymic. Fill in the fields legibly. In case of making claims to the hotel, the guest card will serve as the main documents confirming the stay.
Step 2
The following items are passport data. Enter here the number, series and date of issue of the identity document. In addition to a general civil passport in Russian hotels, it can be a driver's license or a military ID. Employees of hotels in other countries will ask you for a passport, as well as a voucher for check-in, if the hotel was booked in advance.
Step 3
The purpose of the visit - this item is in most hotel forms. Write here why you came to the city. This can be tourism, business travel, personal goals, etc. Filling in this field is not necessary for checking into the hotel.
Step 4
Dates of residence. On this line, indicate the time period when you will be at the hotel. Remember that the checkout time in different establishments is different. And the day starts at nine, twelve or three o'clock in the afternoon, regardless of what time you entered. Consider this when booking and paying for rooms.
Step 5
The number of meals. Indicate here if you will pay for breakfast only, or if you will take lunches and dinners. If you have not decided yet, do not fill out this field. You can always come to the hotel restaurant and order dishes at your own discretion. You will then be billed separately.
Step 6
Indicate the form of payment. You can pay for the room in cash, credit card or travelers checks.
Step 7
Sign on the form. The receptionist must write the room number on it and give the room key in front of you.