Sometimes, in the course of chores on a personal plot, it becomes necessary to remove a tree or get rid of green spaces. It is forbidden to cut trees without permission either in settlements or in the forest. To do this, you will need to issue a special permit - logging or logging ticket. This document certifies the right to use the plantations.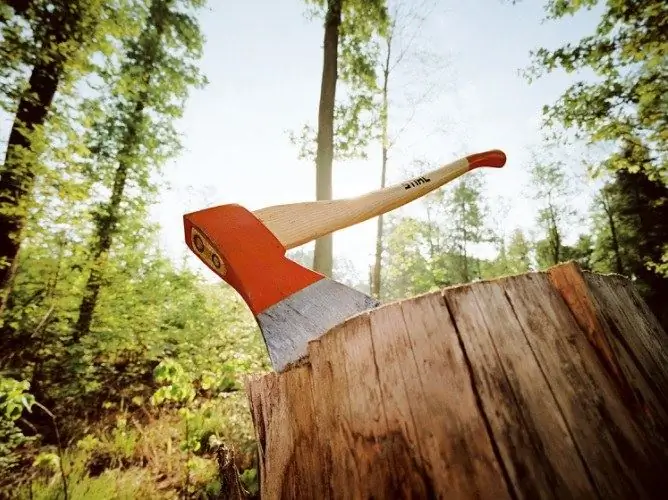 Cutting ticket
The procedure for removing green spaces in settlements is determined by the regulations approved by federal legislation on environmental management and local laws. As a permit for felling, the executive body of state power, for example, the city improvement committee, issues a special document called a felling ticket.
This document indicates the number of shrubs and trees to be cut down, the name of their species, the size of the trunk and the area of lawns that can be destroyed. In accordance with the law, the ticket is issued to legal entities or citizens in whose interests tree felling is carried out. At the same time, the applicant is obliged to transfer certain funds to the budget that will be used to restore the plantings.
Cutting down trees without a felling ticket entails an administrative penalty in the form of a fine.
Logging ticket
Deforestation of trees in forests is regulated by the Forest Code of the Russian Federation. For the implementation of economic activities, a logging ticket is issued here. It gives the user the right to harvest and remove timber and some other minor forest resources. A logging ticket can be obtained even at the stage of preparatory work, which are directly related to felling.
The basis for issuing a ticket for logging will be a lease agreement for a certain area of the forest fund. In some cases, such a basis may be an agreement for the free use of a plot or a concession agreement, as well as a protocol on holding a relevant forest auction.
In all cases, the decision to issue a document is made by the executive authority in charge of forestry. It can be leshoz or forestry.
The forest user receives a ticket annually and only for those types of activities that are determined by the agreement. A prerequisite is compliance with the volume of felling and the boundaries of the area of the forest fund, where such economic activity is permitted. A logging ticket is not required if the forestry is working on harvesting dead wood, windbreak or dead wood.
Logging and felling tickets are in the form of an order, which is approved by the federal authorities, whose competence includes the management of parks or forestry. The same departments determine the procedure for accounting for permits, the rules for filling them out, storing and issuing to interested parties.