Many nations have a tradition of commemorating the dead, and its history goes back centuries. There are certain traditions and rituals inherent in the commemoration, the echoes of which are still alive.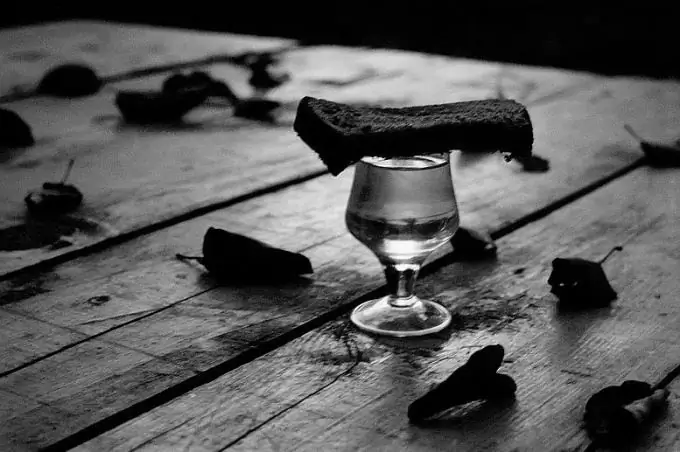 Why do they remember
The funerary traditions of different peoples, which have developed over the centuries, differ, but they are united by one thing - the belief that, together with the death of the human soul, a different life begins. Therefore, much attention was always paid not only to the funeral, but also to the subsequent commemoration.
In Christianity, it is customary to commemorate several times: on the day of the funeral, on the ninth and fortieth days. This is due to the ordeal of the soul in the afterlife.
On the day of the funeral, all those present at the funeral are invited to a memorial meal. Wake can be organized at home, but today many people prefer to rent a cafe or restaurant. Dishes served at the table play an important role in the memorial meal. For Christians since ancient times, the main memorial dish was kutia (or sochivo) - a dish consisting of boiled rice, honey, nuts and raisins.
The grains entering the kutya serve as a prototype of the new life awaiting the deceased. An important point is the consecration of this food in the temple before the commencement of the commemoration. Not necessarily an abundance of dishes on the memorial table. However, cold snacks and various drinks are traditionally served.
A sad feast
Before entering the room where the memorial dinner will take place, it is customary for all those who were at the cemetery to wash their hands. Then the guests are invited to the table with the words: "Please share our grief." At the table, it is customary to leave one dish empty. The place to the right of him is taken by the hostess or host of the memorial dinner.
The memorial meal begins with the reading of "Our Father" by one of the close relatives of the deceased, then everyone present in the left hand takes a handful of jelly at the commemoration. He usually ends the meal. It is poured into glasses for everyone present. In some localities, pancakes with honey are also a traditional memorial dish. It is customary to eat them immediately after kutya. The rest of the meals are served at the discretion of the hosts.
During the memorial meal, it is necessary to observe etiquette: do not talk loudly or laugh. All conversations at the table should be devoted to the deceased, memories of his earthly life. It is not customary to give thanks for the memorial meal. The rest of the food is distributed to guests so that they can remember the deceased at home. Kutya cannot be thrown away. For the next commemoration - on days 9 and 40 - the closest and relatives are invited.
But the most important commemoration of the deceased takes place, of course, in the church.