The sliding folder, along with stands and corners, is used to design advertisements and various information intended for a specific circle of readers. For example, in educational institutions, these are teachers, children, and parents. Slide folders have gained popularity due to their portability, ease of reading and attractiveness.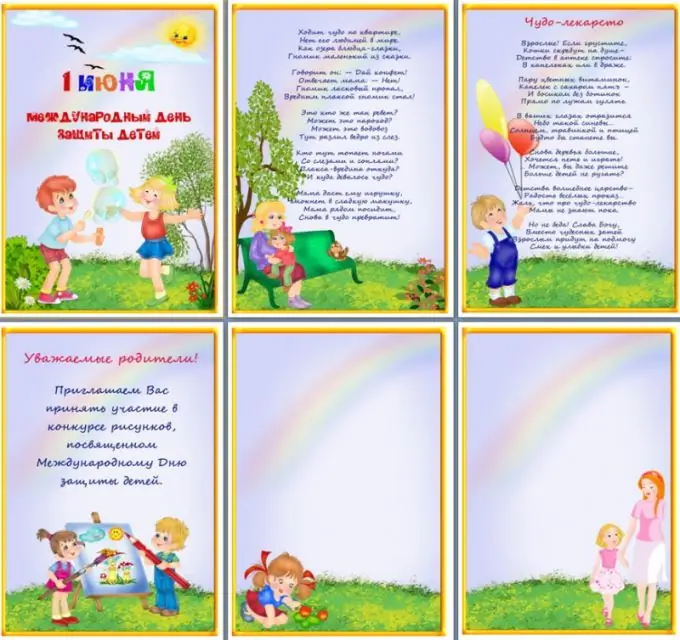 Instructions
Step 1
You can make a sliding folder from thick cardboard by cutting it into the required number of fragments of the desired size. Then the fragments are glued together, and the cardboard is covered with colored self-adhesive film for decorative purposes. To simplify the replacement of information sheets and the reusable use of the sliding folder, pockets are glued to each page. They can be made of plexiglass or other dense material.
Step 2
It is necessary to determine the topic and purpose of the information being drawn up. In this case, the age category of the readers should be taken into account. For children, a bright, colorful design is more suitable. You can use original children's drawings. Use words to a minimum. Ready-made sheets of various topics are available on the Internet. Those who use graphic editors can prepare them themselves.
Step 3
Used on a bright background, too faint or small print in the finished template can negatively affect the perception of information. You should pay attention to this and, if necessary, correct it.
Step 4
A consistent and concise presentation of information, the absence of stylistic and spelling errors in the text, clarity and accessibility for the target audience are the most important requirements for the design of travel folders intended for kindergarten. Drawings and crafts of children, a description of their achievements will be the most interesting topic for parents. Therefore, if the topic allows, you need to combine these elements with the main message.
Step 5
Particular attention is paid to the selection of colors. Very bright colors distract attention from the content, and too pale or dark colors are unattractive. It is ideal to use one saturated color with shades. It is advisable to use the same style and font on all sheets. The general motive or character that is present on all the information sheets of the moving folder will look good.
Step 6
The main advantage of slide folders is their mobility. They can be easily placed in any place where they will be most accessible to those readers for whom the information they contain is intended. In addition, the ease of replacing material makes sliding folders a convenient means of communication with the target audience.