A visit to the pool is not only a change of impressions and relaxation from workdays, but also an excellent exercise for the body. Swimming gives an even load on almost all muscle groups, trains the cardiovascular and respiratory systems. But even such a useful pastime is not without its embarrassment.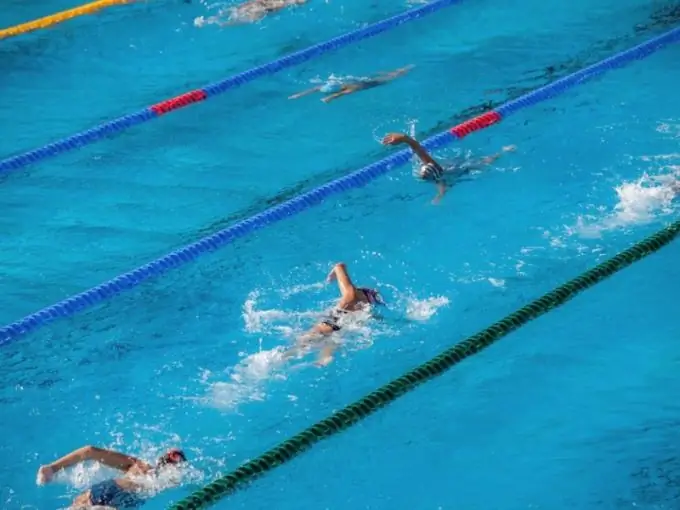 Swimming trunks flew off - how is this possible?
In the pool, no one is immune from unexpected embarrassment, and, swimming for another kilometer, you can suddenly find that your swimming trunks from a swimsuit have fallen off. This can happen when starting from the bedside table, abruptly pushing off the side with your feet, or simply during active movements in the water, if the swimming trunks have a weak elastic band and are poorly fixed on the body. This incident, of course, is not fatal, but a shy person can cause a lot of inconvenience.
If you are a woman and are afraid that one day your swimming trunks will fly off in the water (or someone will pull them off from hooliganism), go to the pool in a closed swimsuit - the probability of losing any part of your bathing suit will be minimal.
How to act when swimming trunks fell off
When you find that you are not wearing swimming trunks, plunge into the water and try to find them. It's good if you have swimming goggles - that way you can see much better. But even if not, there is always a chance to find a dark or colored spot in the water, similar in outline to your lost swimming trunks.
By the way, not only a swimsuit can fly off, but also a hat, glasses, etc. Worse, if something small (ring, earring, etc.) flies off, because it is already very difficult to find such a thing in a pool filled with water.
If you can't find the swimming trunks yourself, try asking someone for help. Perhaps someone has already seen them or stumbled upon them accidentally during the swim, but, unable to identify the owner, swam past. Or even picked it up and laid it out "on land" so as not to get lost, and now they lie and wait for you, as in the famous song: "You are on land, I am at sea …"
What will help you get out of the water in case of lost swimming trunks
If you still can't find a swimsuit, ask someone to bring you your towel from the shower room, explaining where it is, or a bathrobe. Carefully get out of the water, cover yourself with a towel, and inspect the pool bowl from above for the presence of your swimming trunks. You may be able to see them faster this way.
However, if you are more embarrassed to ask for help than to be known as an exhibitionist, get out of the water and quickly go to the shower room yourself for a towel. Suddenly everyone is so passionate about swimming that no one will notice?
Even if you cannot find swimming trunks either on your own or with the help of other swimmers, the pool staff will help you. Report your problem and they will tell you what to do.