The concept of "antiques" means not only furniture, but also any other old and therefore valuable things for connoisseurs and collectors. And for some and especially valuable specimens, lovers of antiquity can arrange a real hunt at flea markets, special sites and antique shops.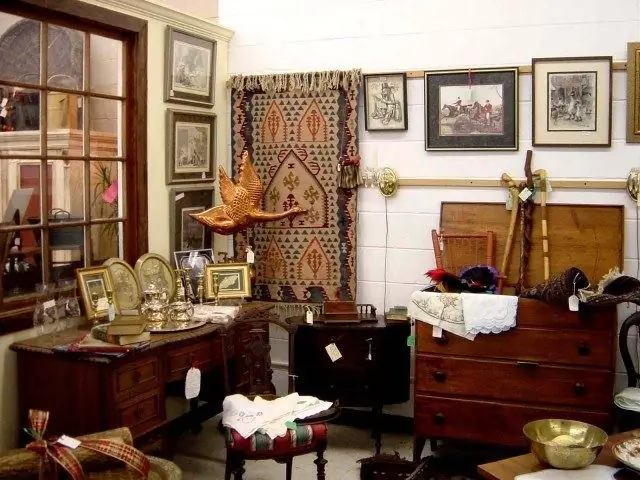 Option one
The most obvious and profitable way is to go to the flea market. Similar places of trade exist in almost any major city. For example, in Moscow you can find a flea market at the Novopodrezkovo station or in Izmailovsky Park, and in St. Petersburg it is the Yunona fair in the south of the city, as well as a flea market near the Pionerskaya metro station and a flea market on Udelnaya Street.
In other large Russian cities, places of trade in antiques can be found by the following landmarks:
- the place between the recreation center "Stroitel" and the public transport stop "Berezovaya Roscha";
- food market "Shapito" on Georgiy Dimitrov street and Bird market on Krasnye Kommunarov street in Samara;
- the intersection of Tinchurin and Tatarstan streets near the Kazan bus station in the capital of Tatarstan;
- The central market near the Moskovsky railway station in Nizhny Novgorod.
The advantage of this option is that you yourself will be able to set the desired price for the product that you want to sell, and also you will not "unfasten" dealers. The combination of these two factors will help to sell antiques at the most profitable.
Other options for a more or less profitable sale of antiques
You can also refer to the resources of the Internet. It has a huge number of sites on which those wishing to sell antiques can post ads. Perhaps the most popular of them is currently considered to be Molotok.ru, which has long established itself as a proven trading platform.
Here you can find old coins, posters, paintings, figurines, dishes, furniture … You can't list everything!
The obvious advantage of the Molotok.ru site is the ability not only to place an ad with a fixed price, but also to open your own auction, as a result of which the product is won by the user who offered the best price. But this option is not always profitable, since the administration will bill you for a certain percentage of the transaction amount for the sale of expensive purchases.
But, since when using Internet sites there is no way to see a person in person, some of these resources oblige active users to go through the verification procedure.
During verification, the site receives great guarantees of authenticity either by sending a letter with a confirmation code to a real postal address, or by identifying users in some other way.
Another option is to place an ad on a non-specialized site like Avito. Here you will also be free of any interest, but you will not be able to find out anything about the identity of the buyer and secure your transaction.