Magnolia is one of the oldest plants on Earth, dating back about 140 million years ago. Magnolia is now considered a popular exotic plant with gorgeous large flowers.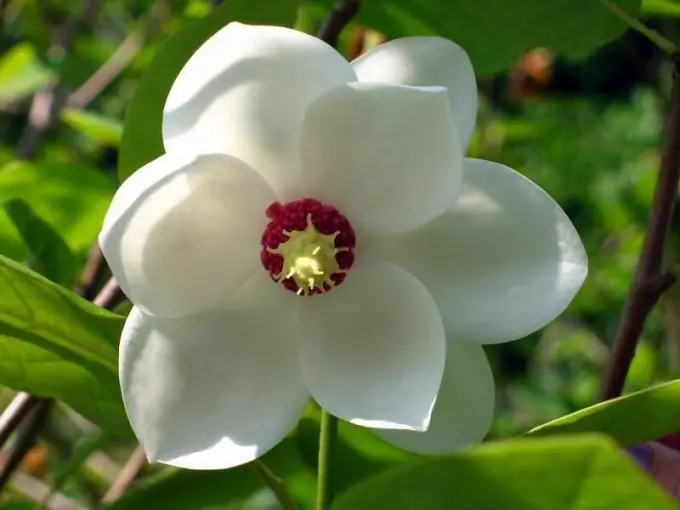 The legend of the origin of magnolia
Magnolia came to Europe from China and Japan. According to one of the legends of Ancient China, beautiful girls from a ruined village were turned into magnolia flowers. Together with its other inhabitants, they were brutally killed by foreign invaders. The last surviving beauty asked her native land so that smoldering would not touch the bodies of her friends. The next morning, instead of the bodies of the dead girls, the killers saw a tree covered with beautiful buds. In terrible anger, they hacked him into pieces and scattered him over the steppes. But wherever a piece of wood fell, a new plant grew, on which the buds of resurrected souls bloomed. This tree was the magnolia.
Magnolia blossom
In fact, most magnolias do not start blooming until 9 years after planting. Depending on the species, the plant can bloom in early May or August. Different varieties of magnolias can have white, pink, purple, rarely yellow flowers. The deciduous varieties of magnolia bloom even before they even have leaves. Their flowering period coincides with the flowering of lilacs. Unfortunately, the flowering of magnolias does not last long. The time when the petals fall from them is sometimes called "magnolia rain". It is an enchanting and, at the same time, sad sight.
Blooming magnolias have an unusually pleasant, mesmerizing aroma. However, you shouldn't enjoy it too long. The fact is that it contains a poison that causes a severe headache. However, magnolia is a raw material for the manufacture of essential oils used in aromatherapy and with healing properties.
Magnolia is widespread on the Black Sea coast. There she is one of the most beautiful and exotic plants that form the basis of garden and park vegetation. Nevertheless, there are also frost-resistant varieties grown by gardeners in central Russia and capable of withstanding even a 30-degree frost. As a rule, they are in the form of a large spreading tree up to 30 m high, although there are also small trees among them.
Today, there are about 80 species of this wonderful plant. Particularly beautiful and sophisticated is the so-called stellate magnolia (Magnolia stellata), which is native to Japan. All types of magnolias are decorative and are actively used in landscape design.