The main cause of a flat bicycle wheel is a puncture in the inner tube. If you are faced with such a problem, do not rush to throw it away and spend money on purchasing a new one. You can glue the camera yourself without spending a lot of time and money on it.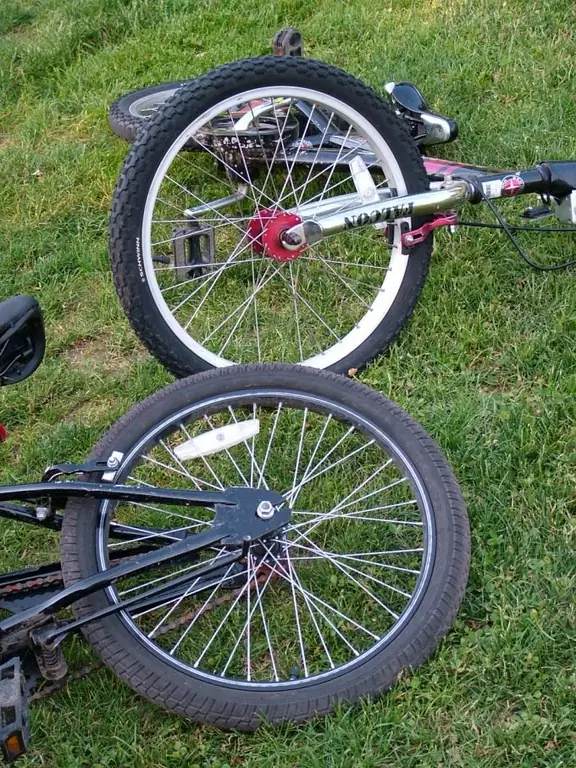 Necessary
- acetone;
- glue;
- emery;
- patch.
Instructions
Step 1
Remove the wheel before resuscitating a bicycle tire. Flip the bike upside down by placing it on the handlebar and seat. Disconnect the wheel from the brake system. Unscrew the fasteners and remove the wheel. Use a suitable wrench for this. Flip the bike over to its original position.
Step 2
Remove the tire from the metal rim. To do this, unscrew the nipple cap and release the air. When the tire is flat, carefully lift it off the rim and remove the tube from it.
Step 3
Determine the puncture site. To do this, you need to pump up the camera again, but not very much, otherwise it may burst. Fill a large basin or tub with water and lower the camera into it. Rotate the camera by gently pressing on it. Air will begin to escape from the puncture site, forming small bubbles. Memorize or mark the puncture site and remove the camera from the water. Dry the camera and deflate.
Step 4
Prepare emery, patch, acetone, and glue. These tools can be found in the special kit that comes with your bike. The same set can be purchased at a sports store. If you don't have a special kit, you can use sandpaper, rubber glue, and a piece of an old camera. Gasoline can be used instead of acetone.
Step 5
Place the camera on a solid surface. Clean the puncture site with emery and treat with acetone. Apply some glue to the camera and wait 1-2 minutes. Glue the patch so that the puncture site is in the center of the patch.
Step 6
If you don't have any ready-made patches, make them from an old camera. Cut out a round patch from the camera, the diameter of which should be no more than 5 cm. Sand it and treat it with acetone in the same way as the puncture site on the camera. Apply glue to the camera and stick a patch.
Step 7
After the patch is glued, you need to wait until the glue is completely dry. How long it takes depends on the glue you are using. Read the information on the tube carefully.