State symbols of France have a rich history, the same as the republic itself. Over the years of its existence, it has experienced many intrigues, unrest and revolutions. The invincible French spirit and the struggle for freedom are reflected on the flag and coat of arms of the country.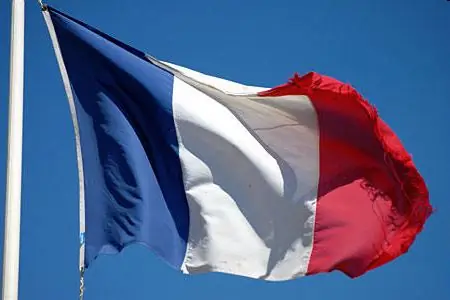 Instructions
Step 1
The modern flag of the French Republic is a 2: 3 panel with three vertical equal stripes: blue, white and red. It acquired this form after the Great French Revolution of 1789. The main events of the coup then unfolded in the heart of the state, under the Parisian blue-red banner. On July 17, 1789, after the storming of the Bastille, Louis XVI arrived from Versailles to Paris. When the new mayor of the city gave the king a red and blue cockade - the symbol of the popular militia of Paris, the king fastened it on his hat, next to the white cockade. In October of the same year, the republic's flag was officially approved - a horizontal blue-white-red tricolor. In this form, it has survived to this day.
Step 2
Some historians interpret the colors of the French flag as an illustration of the world famous revolutionary slogan "Liberty, Equality, Fraternity." Others see it as a combination of the colors of three different banners: blue - the Christian preacher Saint Martin, white - Jeanne d'Arc and red - the famous Oriflamme - the sacred military banner of the French kings.
Step 3
The history of the coat of arms of France is interesting and confusing. The modern coat of arms is the ninth in a row. It was created in the 50s of the last century, but has not yet received the status of an official national symbol.
Step 4
The first French coat of arms was a shield, on a blue background of which were depicted many golden heraldic lilies - stylized drawings of a yellow iris flower. The fleur-de-lis is a symbol of the Blessed Virgin. It was this coat of arms that formed the basis for all subsequent ones. Then the ruling dynasties added certain colors to it, changed the number of lilies and supplemented the symbolism with family elements.
Step 5
On the modern coat of arms in the center there is an image of a shield (pelta) with a lion's head, on which the Latin letters "RF" are engraved, meaning "French Republic". Oak and olive branches are depicted around the pelta, which symbolize wisdom and peace. The basis of the coat of arms is the fascia - a bundle of wooden rods with an ax stuck in the middle, tied with a red leather belt. In modern heraldry, fascia stands for union, strength in unity, and justice.
Step 6
Despite its deep meaning, the modern French coat of arms never became a unifying national symbol. Symbols such as the Marseillaise, Marianne and the Phrygian cap, Rooster, etc. are still popular here.