Galina Aleksandrovna Polskikh is the most famous Soviet and Russian actress, People's Artist of the RSFSR, who has currently played more than 140 roles in theater and cinema. The fate of the actress cannot be called easy. In places it was even tragic.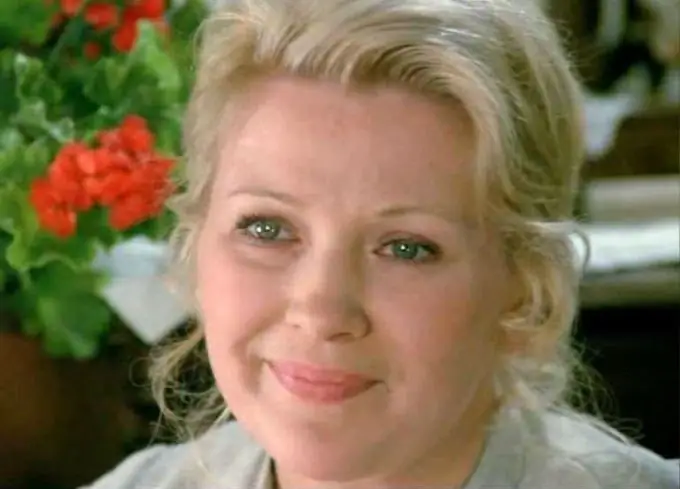 Childhood of Galina Polskikh
Galina Alexandrovna was born in Moscow on November 27, 1939. When the girl was three years old, her father died at the front. And in 1947, her mother contracted tuberculosis and died. The orphaned girl was sent to an orphanage, where she spent several years. However, a little later, Galina was still lucky - soon her grandmother took her for education.
As a teenager, Galina watched movies with great enthusiasm. It was then that she wanted to become an actress. After leaving school, the girl entered VGIK without any preliminary preparation. She was enrolled in the workshop of T. F. Makarova and S. A. Gerasimov.
Carier start
Even during her student years, Galina starred in several films. So, in 1962, the director Julius Karasik offered her the main role in the film "Wild Dog Dingo". It was thanks to this film that Galina immediately fell in love with the Soviet audience. Her next film was the well-known "I walk around Moscow".
In 1964, the girl graduated from VGIK and began working at the Theater-Studio of the film actor.
Role and achievements
After the very first two films, it became clear that Galina Polskikh looks most advantageously in a lyrical and dramatic role. Roles of just such a plan later succeeded in her especially talentedly. But the genre of comedy was also successfully mastered by her.
The main "highlight" of the actress's career can be called the presence of only positive characters. Galina Aleksandrovna played negative heroines only twice in her long career.
Also curious is the fact that the girl for a very long time flatly refused to play on the stage. However, a little later, she gave up and made her debut in the play "Hold on, Hollywood!"
Her achievements should also be noted. Galina Aleksandrovna received the State Prize of the RSFSR named after I. brothers Vasiliev for their work in the dilogy "Front without flanks" and "Front behind the front line" (1978). In 1979 she was awarded the title of People's Artist of the RSFSR, and in 1999 she was awarded the Order of Merit for the Fatherland of the fourth degree.
Personal life of Galina Polskikh
Meanwhile, the actress's personal life was very tragic. Her first husband, director Faik Hasanov, died in 1965 near Yalta, where he was hit by a car. This happened not far from the film studio where he filmed his film. From this marriage, Galina Polskikh left a daughter, Irada.
Her second marriage to director Alexander Surin also turned out to be short-lived. They divorced very soon. In this marriage, Galina Aleksandrovna gave birth to her second daughter, Maria.
In addition, her grandson, Philip Chebbo, was in a very serious accident in 2011, as a result of which he had to amputate his leg.