A lost or worn-out certificate of conformity of the quality of goods can be restored by contacting the center of unified certification of your region. To obtain a duplicate, you will need to present a number of documents. If the expired certificate is lost, you will have to draw up a new document in accordance with Government Decree No. 982.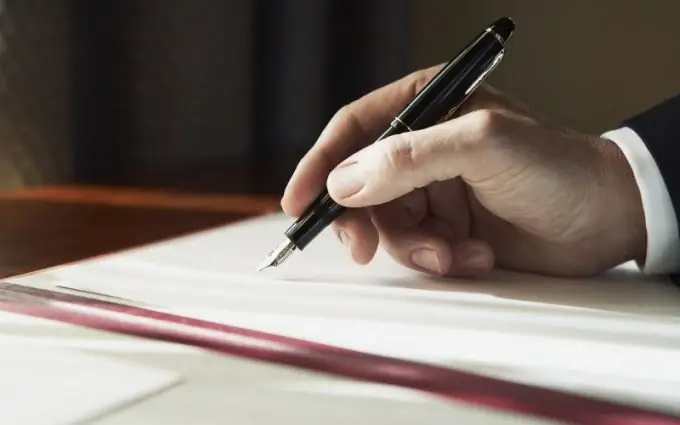 Necessary
- statement;
- the passport;
- receipt of payment of the state duty;
- certificate of laboratory control;
- manufacturer's certificate.
Instructions
Step 1
All information on the issuance of a certificate of conformity and on the verification of goods by the sanitary epidemiological surveillance authorities, as well as on the protocol of the regional commission of representatives of the sanitary epidemiological surveillance authorities, are entered in the log book. It contains the date of execution of the document, the name of the goods for which the certificate was issued, the full name of the individual entrepreneur or the responsible representative of the legal entity.
Step 2
The number of the certificate is entered into the unified state register for certification, as well as all the information about who and when the document was issued.
Step 3
Information about the certification of goods is transferred to the district administration, but local governments can only confirm that the certificate has been issued.
Step 4
A duplicate is issued at the place of registration in the regional center for unified certification. This triple control and accounting of certificates allows you to get a duplicate at any time.
Step 5
To obtain a duplicate, present your passport, write an application. Indicate the reason for the loss of the certificate of conformity, present the certificate of the manufacturer of the goods, pay the state fee for issuing a duplicate.
Step 6
After 5 working days you will be given a duplicate of the document. If the term of the lost certificate has expired, you will not be able to issue a duplicate, therefore, to obtain a certificate, present an application, passport, all copies of certified products for laboratory control, pay the state fee for the certification of goods.
Step 7
The established period for certification of goods is 1 month. These terms may be increased if the goods are sent for laboratory control to another laboratory due to the lack of the necessary equipment or reagents at the central certification center.
Step 8
If the certificate is lost and the expiration date for it has expired, but the goods do not belong to the perishable category, then you just need to present a certificate confirming the passage of laboratory control. If the certificate is lost, you can get it again by contacting the laboratory.