The license plate of the car is its identification mark. It is individual, and by it you can immediately determine the country and region of registration of this car. However, due to one reason or another, the license plate of the car may become unusable.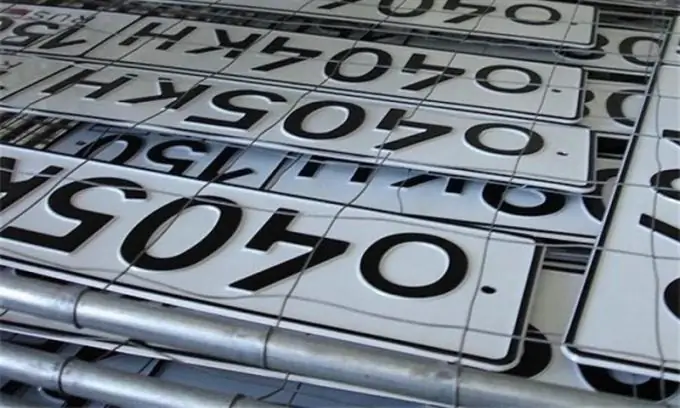 Instructions
Step 1
Experts do not advise you to restore license plates yourself. Firstly, it is punishable (Code of the Russian Federation "On Administrative Offenses" Article 12.2). Secondly, the fake is noticeable. Enterprises that manufacture license plates use many degrees of protection: stamps on the back, the use of reflective film, which is not available on the free market, the use of holographic protection. And if you are suspected of forgery, then, accordingly, see paragraph 1. And, thirdly, it is much easier to contact special organizations to make duplicates of your numbers.
Step 2
To make duplicates, you must contact the traffic police. If you have old numbers on your hands, or at least 80% of them, the numbers are changed. They refuse to make duplicate license plates only if: one or two numbers are lost (then you will have to go through the entire procedure for removing the vehicle from the register and registering for a new one); doubt the authenticity of the numbers or parts presented for dubbing (they will carefully examine).
Step 3
Follow the law. Submit the following documents to the traffic police: - an application for the issuance of duplicates (drawn up according to the form); - the passport of your car, a certificate of its registration with the traffic police; - your passport of a citizen of the Russian Federation, a certificate from the place of residence (form 9); - a copy of the title on both sides (on one sheet); - old license plates or what is left of them; - auto insurance policy; - receipt of payment for traffic police services.
Step 4
In case of a positive result of consideration of your application, you will be given new numbers to replace the old ones with the same letter and number designation. These numbers will correspond to GOST R 50577-93 "Signs of state registration vehicles" and will be made using appropriate technologies. It is not recommended to paint and restore worn-out numbers, because there is a risk of damage to the protective reflective film, which will inevitably lead you to proceedings with the traffic police.